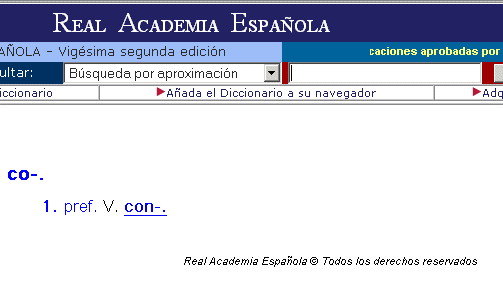 Esta es una respuesta filosófica que todo aragonés (por lo menos todo maño) debería conocer.
Empecemos nuestra investigación por el diccionario de la RAE :
En la RAE no se enteran de nada. Y como los de aquí no se enteran de nada salgamos al mundo mundial a ver que hay.
Por ejemplo en http://encyclopedia.thefreedictionary.com/co encontramos esto:
CO can stand for:
Carbon monoxide, molecular formula
Cardiac output, the volume of blood being pumped by the heart per time unit, often specified as the volume pumped through a ventricle per minute. It is equal to the heart rate multiplied by the stroke volume.
Central office, in telecommunications and telephony
Certifying Officer
Chief Officer
Colombia, in various country codes
Collection Officer
Correction Officer
Correctional Officer
Commanding officer, military
Commissioned Officer, military
Communications Officer
Como, a city in Lombardia, Italy
Company
Compliance Officer
Conjure One, a Canadian music artist
Conquer Online, a MMORPG PC game
Conscientious objector, military
Continental Airlines, IATA airline designator
Collaborative Browsing
Correctional Officer, Correctional Officer
Custodial Officer
Evidentemente no se parece a lo que acostumbramos a utilizar. Entonces es hora de intensificar la busqueda, probemos con Coo:
http://encyclopedia.thefreedictionary.com/coo
Si señor el resultado se ciñe a la realidad como un guante a la mano:
Coo may be:
A noun and verb denoting the call of pigeons.
An interjection of surprise and admiration.
A derivative of the word "cool"; it has a similar usage but tends to be more sincere where "cool" is often used in a dispassionate manner as mere acknowledgement.
Coo es una llamada de los pingüinos (a algunos, esta palabra, los debe de dejar elados o es que es muy fresco, siempre cabe que sean los que le están escribiendo la novela a Tochis ).

Coo es un una interjección (que causa admiración y sorpresa sobre todo en extraños).
Coo es abreviatura de "Cool". Esta me parece la mejor. Utilizar coo es ser "Cool". Cuando Violadores del Verso utilizan Coo en sus rap es que son Cool a tope. Pero eso ya lo sabiamos.
En la wikipedia opinan lo mismo .